Saturday 31 August 2019 & Sunday 1 September 2019
— Entries are now closed —
Tournament Affiliation No: VL00060
Venue: Kings College Playing Fields, Kings College Road, Ruislip, Middlesex, HA4 7JZ
Parking
This year parking will be available in the field adjacent to Kings Cafe. Please do not park in the streets (unless the car park is full).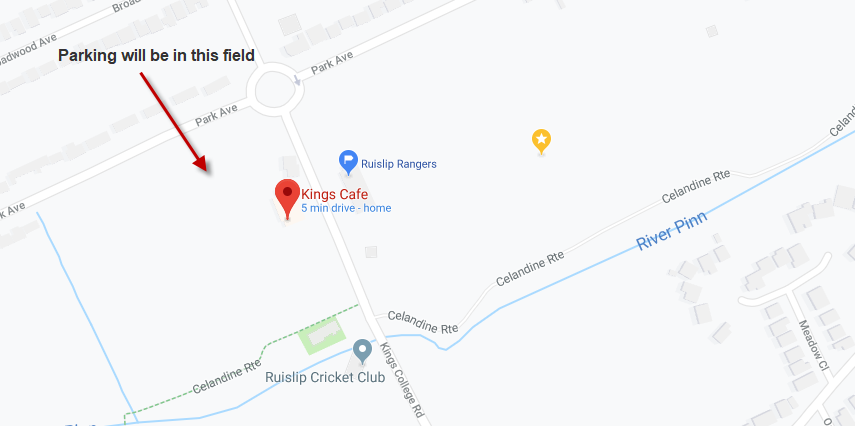 Entry Fees
Adults – £2
Senior Citizens – £1
Children (under 18) – Free
NOTE: Keep your programme and show it to the gate duty staff any time you enter one of the two fields where matches are being played to prove that you have paid the entry fee.
Registration Times & Managers' Briefings
Registration – 7am to 8am for morning sessions and 12.30pm to 1.30pm for afternoon sessions
Managers' Briefings – 8.15am for morning sessions and 1.45pm for afternoon sessions
Dates and Timings
Saturday 31 August 2019, Morning (8.30am to 12.30pm)
UNDER 8s (5-a-side) – 2019/20 Age Group
UNDER 9s (7-a-side) – 2019/20 Age Group
UNDER 9s COLTS (7-a-side) – 2019/20 Age Group
UNDER 13s (7-a-side) – 2019/20 Age Group
Saturday 31 August 2019, Afternoon (2pm to 6pm)
UNDER 7s (5-a-side) – 2019/20 Age Group
UNDER 10s (7-a-side) – 2019/20 Age Group
UNDER 10s COLTS (7-a-side) – 2019/20 Age Group
UNDER 14s (7-a-side) – 2019/20 Age Group
Sunday 1 September 2019, Morning (8.30am to 12.30pm)
UNDER 11s (7-a-side) – 2019/20 Age Group
UNDER 11s COLTS (7-a-side) – 2019/20 Age Group
UNDER 12s (7-a-side) – 2019/20 Age Group
UNDER 12s COLTS (7-a-side) – 2019/20 Age Group
UNDER 15s (7-a-side) – 2019/20 Age Group
Sunday 1 September 2019, Afternoon (2pm to 6pm)
UNDER 16s (7-a-side) – 2019/20 Age Group
UNDER 17s (7-a-side) – 2019/20 Age Group
PAN DISABILITY AGED 16+ (7-a-side) – 2019/20 Age Group
UNDER 9s/10s GIRLS (7-a-side) – 2019/20 Age Group
UNDER 11s/12s COMBINED GIRLS (7-a-side) – 2019/20 Age Group
UNDER 13/14s COMBINED GIRLS (7-a-side) – 2019/20 Age Group
UNDER 15s GIRLS (7-a-side) – 2019/20 Age Group
UNDER 16s GIRLS (7-a-side) – 2019/20 Age Group
This tournament is advertised on www.clubtournament.co.uk